First Carleton Website
This is the earliest official Carleton website that can be found on Wayback Machine. This website were basic, using vertically structured, text-heavy pages with few graphics just like most of the web design at that time. There are also some eye-catching blue underlined hypertext to navigate the virtual Web space. This website also has different sections for visitors, students and alumni which is very unusual for .edu websites at that time. It is a pity that this division disappeared during the next 10 years.
In the year 1998
Although this image-mapped, publication-style approach might look outdated today, but we can definitely see the use of Carleton related themes such as the yellow and blue color as well as the picture. It also provides a better description of the school that the current web page, indicating not only that it is a college but also it is situated at Northfield. The design of this web page is not very different from other .edu sites, most schools were offering a column or two of links accompanied by clip art.
Entering 2000!
In 2000, Carleton's website undergone a major change. Descriptions are added below major links to provide more actual content. Carleton was also now devoting some front page real estate, however minimalist, to Carleton news. This is a change from simply providing links to the major areas of the College, a trend that was happening across most .edu websites at the time. Unfortunately, this website is still targeting alumni and especially prospective students when a lot of the .edu website at that time has started to incorporate the intranet/portal trend.Notice how the content available on the home page is still in a table layout and fit in one screen.
2008
Carleton's website undergone a major change during 2007 and the beginning of 2008. The details of this process and the reason for this new website can be found here: https://apps.carleton.edu/campus/web-group/articles/redesign/ . One thing that I like about this web page is that it has much nicer photos of Carleton. Notice how Carleton finally starts to add sections not only for prospective students and alumni but also for students, faculty & stuff and families. Another improvement is that the search bar is also more prominent and better designed. According to the article, this website hopes to convey the message that Carleton is Whimsical/Offbeat , Dynamic, Genuine, Curious and Open. How much of these characteristics you can tell from this website is up to people's personal interpretation.
This is 2014!
This design is very similar to present day Carleton website design. Notice how the color has finally changed to a more well matched yellow and blue.
Web2020
Carleton has made the decision to migrate from Reason to WordPress as its primary Content Management System (CMS). This process would approximately take 3-5 years. Most university websites nowadays are using WordPress. WordPress is a platform that allows web developers to build customizable, creative websites and people have more power and control over their content.
Problems with current Carleton webpage
It is very confusing to have two lines of navigation bar.
The content of the navigation bar is also not clear. Are Academics and Campus Life intended for Students or for Prospective Students?
Another big problem with this web page is that it does not explain what Carleton is. People that opened this site by accident would be very confused by the single word "Carleton". Even though it can quickly be deduced that this is a education institute, is Carleton a high school, a university or a college?
4. Another thing that is confusing is that it is not obvious what buttons are. For example, it probably would not occur to you that the block on the top right corner with "THE CAMPAIGN FOR CARLETON" is actually a button.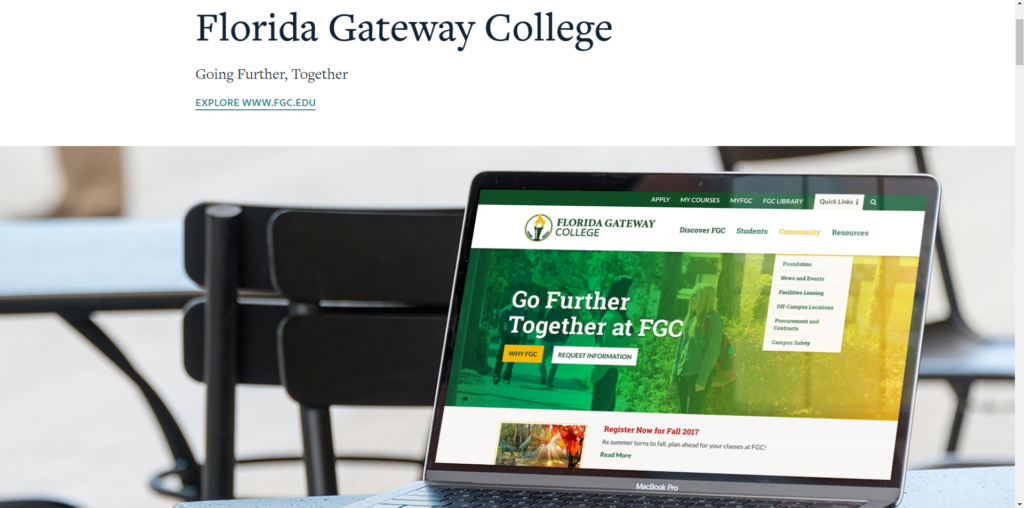 The Florida Gateway College website is that of a small school with a big digital presence. It doesn't let its size hold it back. The website is big and bold, warm and inviting, and very clear.
Fun Facts
I unexpected discovered an old link to a version of Carleton's website in 2001. There is also a link there about an agreement between Carleton College and Carleton University on naming practices. https://www.carleton.edu/builders/